Date
Saturday, 10th June - Monday, 9th Oct. 2006

Opening Hours:
11:00 to19:00 (open till 21:00 on Wednesdays)
Closed: Mondays (except on 17th July, 19th Sept., and 9th Oct.)
Admission Fee
Adult 1,000 yen / student (under 25 years) 800 yen.
(Ticket with signature is valid throughout the exhibition period.)
Organizer
Nam June Paik Tribute Exhibition Committee / WATARI-UM, The Watari Museum of Contemporary Art
Committee Members
Arata Isozaki , Akio Obigane , Yoichi Kimura , Yasuo Kuroki , Tetsuo Kogawa , Itsuo Sakane , Ryuichi Sakamoto , Tetsuya Chikushi , Haruomi Hosono , Takeyoshi Miyazawa , Issey Miyake , Keigo Yamamoto , Shizuko Watari
Special Sponsor
Index Corporation
Sponsors
Sony Corporation/GINZA KOMATSU
Technical Cooperation
Samsung Japan Corporation

In the mid 1960's in New York, when artists began to gather in the storage areas of Soho, a small young Asian carrying video equipments under his arm was walking down Mercer Street. He spoke several different languages fluently, and discussed music, philosophy, and ideas with the New York intellectuals. This mysterious young man's name, Nam June Paik, instantly blazed through the world.

On 29th January 2006, Nam June Paik died at age 73 in his home in Florida. WATARI-UM has interacted and supported him for more than 30 years. This exhibition "Bye Bye, Nam June Paik" is a requiem, documenting the process and his works.

"Bye Bye, Nam June Paik"  total 72 pages, 600 yen (500 limited editions)
Exhibition memorial booklet, with words of condolences from Japanese creators, businessmen, journalists, etc. who had associated with Nam June Paik, and document of his works.

○ "Nam June Paik tribute exhibition" co-hosted at GINZA KOMATSU Art Space (first floor window on Chuo Dori) from Sunday, 4th June - Tuesday, 25th July, 2006.

Profile of Nam June Paik
1932
born on 20th July, in Seoul, Korea.
1950
after graduating from Tokyo University BA in Art and Art history, move to Germany to study 20th century music.
1961
meets the founder of Fluxus movement George Maciunas and become the central member of this movement.
1963
world's first video art work with TV monitors operated by electro magnets. ("Exposition of Music-Electronic Television" March 11-20, at Galerie Parnass, Wuppertal, Germany)
1964
collaboration performance "Robot Opera" with Charlotte Moorman. (the Second Annual New York Avant-Garde Fest. Judson Hall, New York.)
1984
satellite broadcast of "Good Morning Mr. Orwell" from the Centre Pompidou,
Paris, and a WNET-TV studio, New York on Jan 1st.
1993
receives the Golden Bear Award at the 45th Venice Biennale d' Arte.
"Nam June Paik" Exhibition at WATARI-UM, Sept - Dec.
2000
"Retrospective The Worlds of Nam June Paik" opens at the Solomon R. Guggenheim Museum, New York.
2006
died 29th January in his home in Miami.


Time in triangular, 1993
The rectangular work was made to combine WATARI-UM architecture designed by Mario Botta, and the triangular Flatiron Building in New York. *a 

Eurasian Way, 1993
The pictures we took were from Irkutsk to Moscow, and by linking them….. Beuys had that mentality, and he was actually saved by a Mongolian.*b

New candle, 1993
I did something geeky with one of the equipments and broke it. I panicked and moved the candle, then received some kind of feed back phenomenon and there were thirty candles.*c

Passage, 1986


Lebe woel unsere Beuys, 1986

Untitled, 1980

Heart of Mr.X, 1976-82

Candle TV, 1980

*a to c are words by Paik.
*a, b excerpt from "Bijutsu Techo"
*c excerpt from "BRUTUS" Dec. 1, 1993 edition


(main visual)
Paik standing before "Forest of Cage - Revelation of the Forest", 1993
Photo: Eiichiro Sakata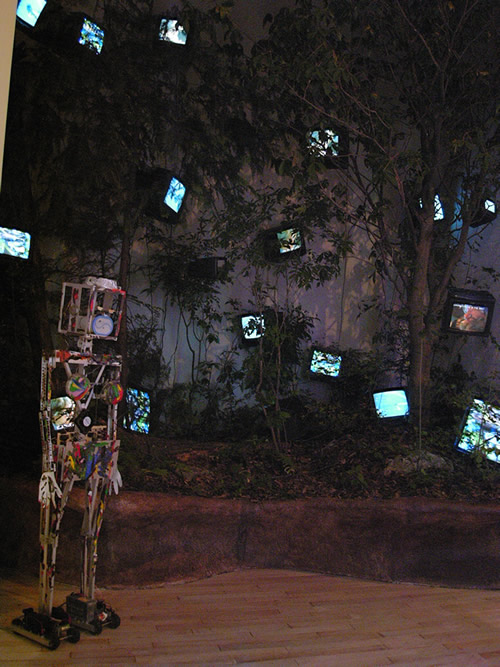 Nam June Paik
Talk & Performance (total six series) all starting from 19:00.

Friday, 30th June
Paik's Philosophy
Ingo Gunther (media artist)
Born in Germany. Paik retrospective by Ingo Gunther, Paik's direct protege from 1978. Based in New York, his works focuses on media, technology, and communication network.

Friday, 7th July
Poetic Technology Transfer
Tatsuya Matsui (representative, Flower Robotics)
The leading expert on robot design who has received GOOD DESIGN award for humanoid robot "SIG" and "PINO", will talk of aspect of the turning from creation to technology with words from Paik,.

Friday, 14th July
For PAIK
Takehisa Kosugi (musician) + Yuji Takahashi (musician)
Tribute performance dedicated to Paik from his friends.
Co-performance in a long time, by Takehisa Kosugi (electronics) + Yuji Takahashi (laptop)
Cooperation: HEAR Takako Okamoto

Friday, 28th July
Beuys and Paik
Ichiro Hariu (chairman of AICA Japan)
Beuys and Paik. Rather than aiming for new expressions, their works always acquire a kind of political nature, transforming visuals to objects, actions or environment, and violently multiplying the social functions of mass media. (from "Bijutu Techo", Aug. 1984 issue)

Tuesday, 1st August
Carry Paik on shoulder?
Talk session: Kazuhiko Hachiya (media artist) + Tadasu Takamine (artist)
What do artists of different generations think from Paik?
"I was refused when I asked Mr. Paik if I can carry him on my shoulders. It's true." Tadasu Takamine

Friday, 25th August
A Chance Operation to NJP
DJ: TOWA TEI (musician)
Debuted in New York as the member of Deee-Lite, it will be the first museum live, for the musician who exceeds the bounders of techno, dance music and art with his myriad activity.

"Talk & Performance (total six sessions)"
Tickets for 6 sessions: 18,000 yen (prior booking necessary.)

Thursday, 2nd Nov. from 18:30
Special Tribute Live farewell, njp
Performers: Ryuichi Sakamoto
Carsten nicolai & raster - noton artis
Akira Asada, others
*Prior booking is needed.For bookings and details contact: WATARI-UM, The Watari Museum of Contemporary Art.  (Tel: 813-3402-3001 e-mail: official@watarium.co.jp
Bank transfer account: Mitsui Sumitomo Bank, Aoyama branch, ordinary savings account 1033281, account holder's name: Watari Museum of Contemporary Art


video workshop
You can become Nam June Paik too

Session 1: Saturday, 5th August, 10:00 - 12:00 + Sunday, 6th August, 18:00 - 21:00
Session 2: Saturday, 19th August, 10:00 - 12:00 + Sunday, 20th August, 18:00 - 21:00

Lecturer: Junichi Ofusa (visual creator)
A special workshop to experience video art production of filming, processing and editing, from the professional visual creator who also was an assistant to Paik,

* please bring your own film equipments. (video camera, cellular phones with filming functions, digital cameras, etc.)

Video workshop participation fee (2 days) 4,500 yen (prior booking necessary)
*Prior booking is needed.For bookings and details contact: WATARI-UM, The Watari Museum of Contemporary Art.  (Tel: 813-3402-3001 e-mail: official@watarium.co.jp
Bank transfer account: Mitsui Sumitomo Bank, Aoyama branch, ordinary savings account 1033281, account holder's name: Watari Museum of Contemporary Art